BIKE PARK PASSO DEL TONALE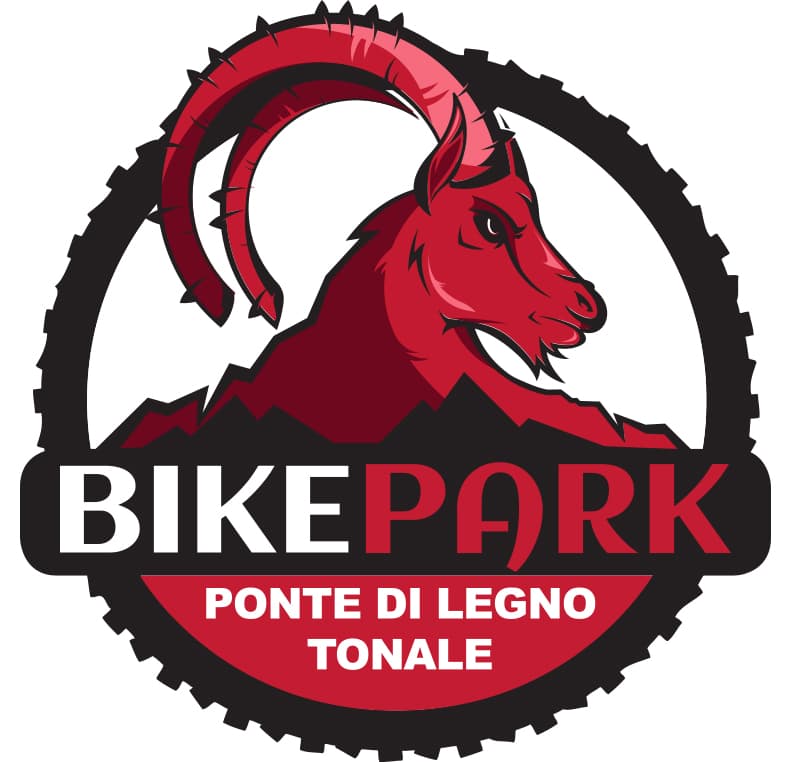 The bike park at Passo del Tonale has been finished this year ! For the ascent there is a fast chair lift you to the top at an altitude 2.200mt then when getting off you can choose from 3 different slopes of varying difficioltà . easy, medium, hard .

The key feature of the park is definitely the FLOW the concept was to create the trail that do approach this discipline even those who have never tried it .. But this does not mean that the more experienced riders can not be entertained in fact far are several doubles , roadgap and insidious traits that will put to good use the skills of the most experienced guide .

We indulged with the construction of numerous , specific and funny NORTHSHORE ( boardwalks ) of the strangest forms , come now to try them !!!
Opening period:
saturday 23rd June 2016 - sunday 9th september
Bike Pass:
A Bike Pass makes it possible for bikers to take their bikes to high altitudes. There are three version available: Daily (20 euros), weekly (6 days – 80 euros), or seasonal (150 euros), and includes the following lifts:
• Roccolo Ventura chairlift (Temù) ► 8.30 - 16.50 (until 17.20 from 29th July to 20th August)
• Valbione chairlift (Ponte di Legno) ► 8.30 - 17.30 (until 17.50 from 29th July to the 27th August)
• Pontedilegno - Tonale cable car ► 8.30 - 17.30 (until 17.50 from 29th July to 27th August)
• Valbiolo chairlift (Passo Tonale) ► 8.30 - 16.30
Daily and weekly Bike Passes can be purchased from each individual ticket office; seasonal tickets are available for purchase only from the ticket office of the Cabinovia Paradiso at Passo Tonale.
Child FREE: Kids present at the purchase time (born after 30.04.2009) accompained by an adult, will receive the free card equal to the type and last of the card purhcased at the same time by the adult (relation 1:1 = 1 adult e 1 child). In order to receive the free card, a valid ID card is necessary.
Rent and guide:
Servizio di officina, noleggio, assitenza e guida (per la guida è gradita la prenotazione). I modelli a noleggio sono: GT force X sport e GT fury elite.
DURATION
HALF DAY**
FULL DAY
MTB* TEACHER
80 €
140 €

RENT DOWNHILL KIDS

BIKE PARK (protections included)

40€
50€

RENT DOWNHILL - ENDURO

BIKE PARK (protections included)

70€
85€
FULL PROTECTIONS RENT
10 €
15€

* guide is not manadtory, if needed, advanced booking is requested
** half day means, moring until 13.00 or afternoon from 13.00 to 17.00
v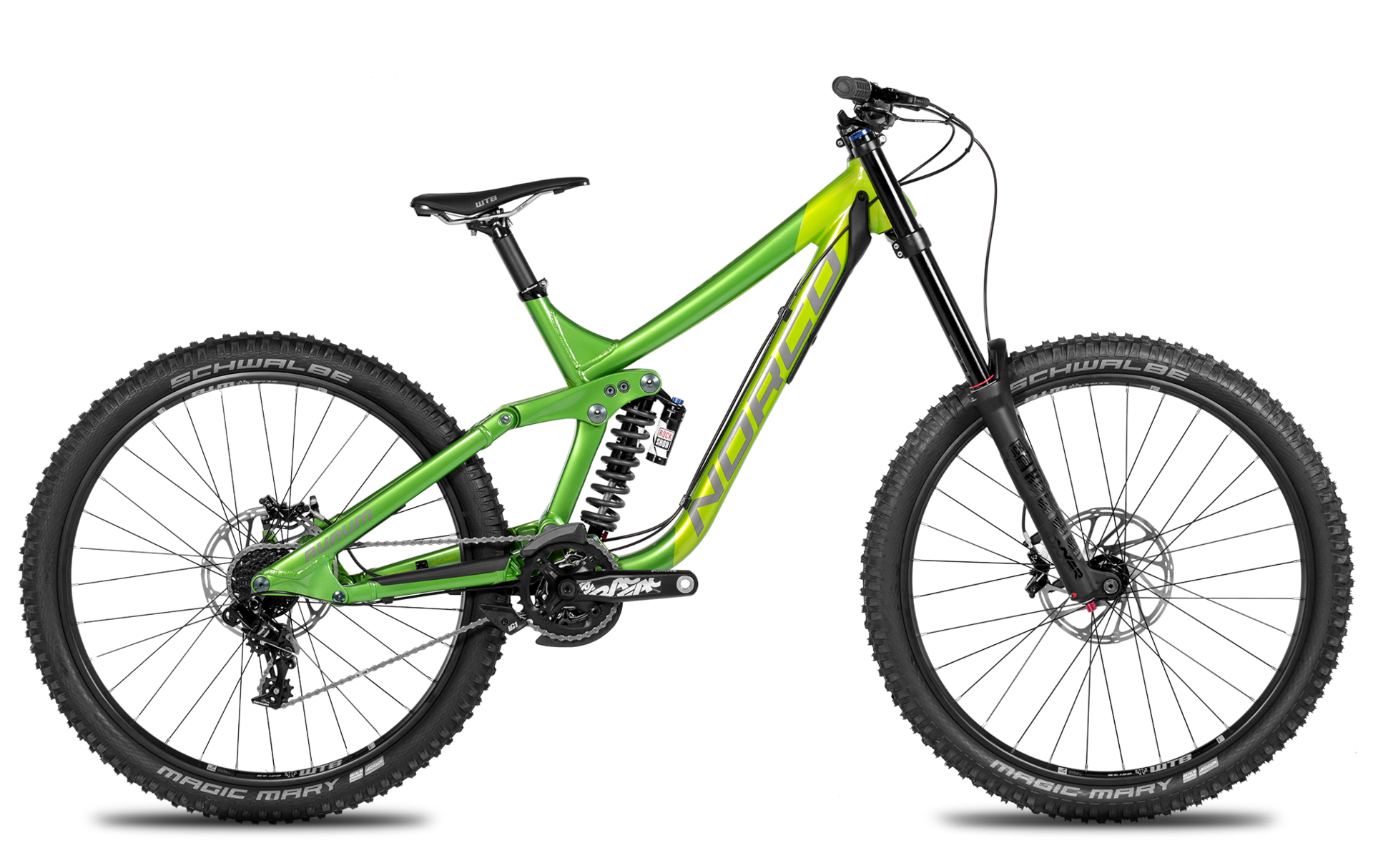 Upcoming events:
Contacts:
Lift Station Valbiolo Passo del Tonale (TN)
info@centrobikevaldisole.com - www.bikeparktonale.com
tel. +39 324 8270056
Tracks:
click on the map to zoom: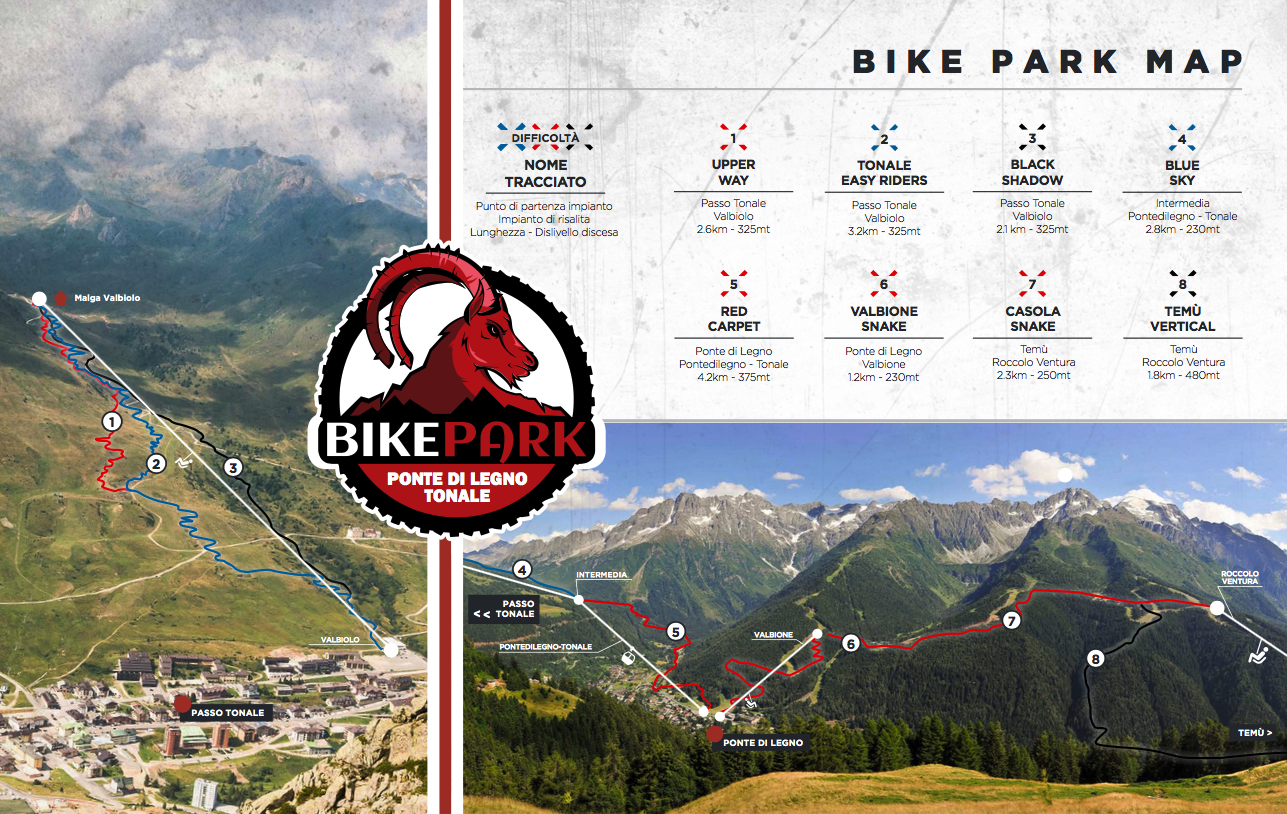 Gravity Bike Map:
Download the bike gravity map of the bike park. click here to see the full version

Video Piste Bike Park:
Click on the name of the track to see the video on youtube (thank to the rider for uploading the videos!!)
Brochure Ponte di Legno Tonale Bike:
Download brochure bike with info and hotels
Webcam Bike Park Ponte di Legno Tonale:
Valbiolo Chairlift
Visit the full version website PONTEDILEGNOTONALEBIKE